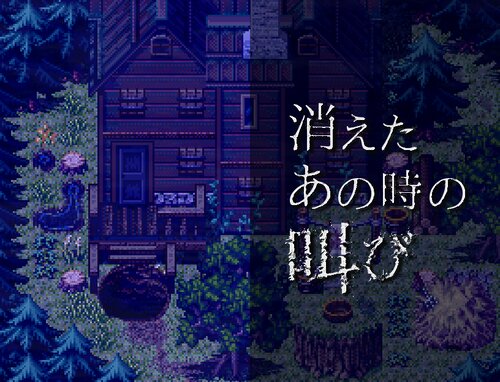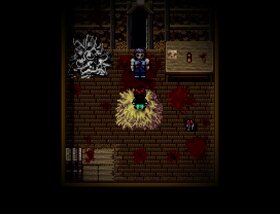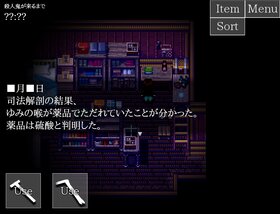 ▼ゲーム情報
【 ジャンル 】 アクションアドベンチャー
【 特徴 】 短編/探索/謎解き/脱出/かくれんぼ/逃走有り/ドット絵/ホラー/雰囲気重視/ストーリー重視
【 ゲーム難度 】 ★★★☆☆~★★★★★+(※難度選択有り)
【 プレイ時間 】 60分~90分
【 エンディング数 】 1(地獄のみ+1)
【 推奨年齢 】 15歳以上
【 制作ソフト 】 RPGツクールMV

4,000ダウンロード&プレイ突破。(全公開サイト総計)
ドッド工房 最高傑作。

いつものように夜道を歩いていた主人公の女性。
しかし、突如現れた大男にスプレーを噴射され、
気絶させられ拉致されてしまう。

連れていかれた先は骨や血にまみれた惨たらしい部屋。
薬品で喉を焼かれて助けも呼べず、主人公は自力での脱出を試みる。

なぜ拉致されたのか、なぜ拉致後すぐには殺されなかったのか、
各所の机に置かれた手紙は一体何なのか…

謎が謎を呼ぶ逃走劇、そして○○劇…
どうぞさいごまでお楽しみください。

プロモーション動画
https://youtu.be/r8dr6Jx1vQ0

当ゲームはゲームクリエイターズキャンプ作品です
https://site.nicovideo.jp/atsumaru/gamecamp2nd/

▼実況動画等の投稿や生配信に関して
収益無し:連絡不要
収益有り:連絡不要(※条件有り)
※条件はReadmeに記載しています。

▼攻略方法
https://sites.google.com/view/atelierdodd/hint

▼最近の更新履歴
2018/12/14 [難度の修正](ver.1.01)
2018/12/19 [演出/難度/マップの修正][演出の追加](ver.1.02)
2018/12/31 [バグの修正](ver.1.03)
Reviews of this freegame.
Share this freegame.
Play this free game now with the browser!
Play on Browser
[Browser] Click to play now [ 【スマホ対応】消えたあの時の叫び (ver.1.03) ]
* When the game does not work, please play with another browser compatible with HTML5. Example: "Chrome" "Firefox"
* Save data is saved in the browser. You can not play with browsers that do not load JavaScript / Cookie etc
* If the operation gets heavier during playing, there is a possibility that the memory of the PC is insufficient. Improve it by closing unnecessary software and tabs.
Play on PC(Win/Mac)
[Win] Login and download "Windows version"
[Mac] Login and download "Mac version"
* This game is "browser game". It can be played without downloading with "PC / smartphone", but it is delivered in a format that can not be downloaded and started.
* It is not normally downloadable, but because it supports "multi-deployment function", it is converted for PC, and it is downloadable after logging in.
* Please use other decompression software such as "7zip (free software)" when garbled error occurs at zip decompression.